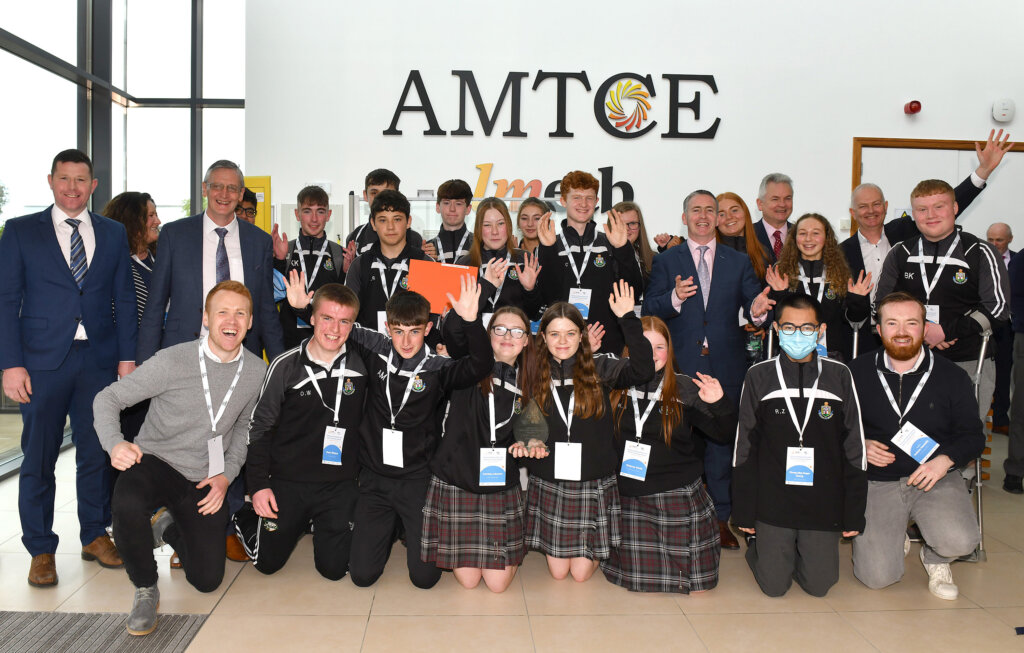 AMTCE hosts Advanced Manufacturing Schools Awards
On 20th May 2022, the AMTCE hosted the awards for LMETB's Advanced Manufacturing Schools Project, and the overall winner was St. Oliver's Community College in Drogheda. The Guest of Honour was Mr Damien English TD, Minister for State for Business, Employment and Retail, who presented the students with their award.
The students were given a specific challenge rooted in project-based learning, including a Design Thinking Workshop. The aim is inspiring the next generation of students to consider highly skilled STEM careers and to broaden their teachers' understanding of the exciting career options in this area.
Students at St Oliver's Community College won for their 'Multitasker' device, designed to assist people with arthritis or weak fingers due to other health conditions in opening bottles, peeling tabs and picking up small items.
Dr Michael McGrath, Technical Director at AMTCE, was one of the judges and he said, "Congratulations to the students at St. Oliver's College on all the work they put into the project. It was chosen as the overall winner because of the design innovation and its practical application in helping an aging population to complete some of the activities of daily living."
Other notable entries included two by Bush Post-Primary School in Dundalk: a 3D printed medical charm with a QR code on the back for easy scanning by medics responding to an emergency and a 3D printed device to help farmers dose cattle and sheep with oral medications.
Mr Martin O'Brien, Chief Executive of LMETB said "Students experience real-life applications of engineering and ICT, highlighting potential career paths available to them in all areas of STEM. Their teachers can also avail of upskilling in design software and 3D printing technologies."
Mr O'Brien continued "Based on the proven success of the programme to date, we are planning to offer the programmes in all our schools in Louth and Meath in September. We are currently revising and expanding the curricula for the programme. Our overall ambition is to roll out this initiative nationwide."
This year, LMETB has run four Advanced Manufacturing School Projects in close collaboration with the Mullingar- based Irish Manufacturing Research Centre (IMR) and Fastrack to Information Technology (FIT).